Antineoplaston
From Psiram
The Antineoplaston-Therapy (ANP) according to Stanisław Burzyński is an unconventional cancer treatment using so-called "antineoplaston remedies". Burzyński invented the name for a group of peptides. Despite the pseudomedical therapy has been known in USA since 1977, evidence of its efficacy is not available as of yet. Several fatalities, however, are associated with the therapy[1]; it is regarded as inappropriate for the treatment of cancer.[2][3] Critics of the method were threatened by a marketer of the method in 2011.[4][5] After a resulting public outrage, Burzynski's Clinic issued an apology and a statement that the marketer in question was not "in a professional relationship with the Burzynski Clinic" anymore. The press release confirmed the marketer had been contracted to "stop the dissemination of false and misleading information" about the antineoplaston therapy. Bloggers will be contacted by lawyers to remove what is claimed to be false or misleading information.[6]
Stanisław Burzyński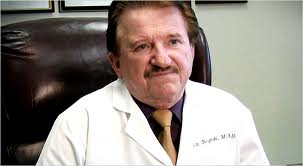 Physician Stanisław Rajmund Burzyński (born January 23, 1943 in Lublin, Poland) lives in Houston, Texas. Burzyński claims to have achieved both M.D. and Ph.D. degrees in medicine in Lublin in 1967. These claims are dubitable since this university does not provide doctoral programs. Additionally, his dissertation cannot be traced.[7][8]
Burzyński migrated to the United States in 1970 and was employed at Baylor University in Houston, isolating peptides from rat brains for three years. He received a licence to practice medicine in USA in 1973 and was awarded a three-year grant to study the effects of urinary peptides as an assistant professor. When the grant was not renewed, Burzyński founded his own clinic in Houston.
Composition of Antineoplastons
Antineoplastons are a group of organic chemical compounds usually found in urine and blood. They consist mostly of amino acids, the building blocks of proteins and peptides, compounds made of two or more amino acids.
In 1985 Burzyński presented peptides which he called A1, A2, A3, A4, and A5. He detected A2 had the highest effects on tumor cells and named its active ingredient A10. Chemically speaking, A10 is 3-N-phenylacetyl-amino-piperidine-2,6-dione. He developed the products AS 2.5 and AS 2.1 from this peptide. Burzyński first prepared them from human blood, later from human urine. He developed and patented a manufacturing process for the peptides allowing him to produce them without taking them from human urine. This method is based on synthesis of glutamine and phenylacetyl chloride. Since 1980, the preparation can thus be manufactured synthetically using inexpensive substances commercially available.[9][10]
In alternative medicine, tributyrat PA and PB are known as a kind of preliminary version of Burzyński's antineoplastons.
The Therapy
The therapy is available only from Burzyński at the "Burzynski Clinic" in West Houston, Texas. He offers the treatment as part of studies, since the compounds used are not approved. In order to qualify, a patient must have been non-respondent to standard therapies, or the tumour must have been rated incurable. The compound is either injected or taken orally. If a patient's condition improves due to intravenous adminstration, patients may switch to oral administration. During intravenous administration, antineoplastones must be given constantly, thus requiring a programmable pump which patients carry on them.
Costs
An according therapy is estimated at approximately $ 100,000 per year of treatment. Patients have to pay $ 6,000 prior to the start of treatment and instalments of $ 7,500 to $ 9,000 per month. Most insurance companies consider the therapy unproven and do not reimburse costs.[11][12][13]
Legal Issues
In 1994, Burzyński was convicted for tax insurance fraud.[14] In 2009, FDA issued a caution against the institute due to violations of regulations for the protection of patients.[15] In 2010, the Texas State Board of Medical Examiners filed a complaint against Burzyński.[16] The complaint contains the following charges:[17]
failure to practice medicine in an acceptable professional manner consistent with public health and welfare;
failure to meet the standard of care;
negligence in performing medical services;
failure to use professional diligence;
failure to safeguard against potential complications;
failure to disclose reasonably foreseeable side effects of a procedure or treatment;
failure to disclose reasonable alternative treatments to a proposed procedure or treatment;
failure to obtain informed consent from the patient or other person authorized by law to consent to treatment on the patient's behalf before performing tests, treatments, or procedures; and
prescription or administration of a drug in a manner that is not in compliance with Chapter 200 of this title (relating to Standards for Physicians Practicing Complementary and Alternative Medicine) or, that is either not approved by the Food and Drug Administration (FDA) for use in human beings or does not meet the standards for off-label use, unless an exemption has otherwise been obtained from the FDA.
unprofessional or dishonorable conduct that is likely to deceive or defraud the public or injure the public;
providing medically unnecessary services to a patient or submitting a billing statement to a patient or a third party payer that the licensee knew or should have known was improper. "Improper" means the billing statement is false, fraudulent, misrepresents services provided, or otherwise does not meet professional standards.
The Texas Medical board summoned Burzyński for a hearing to be held on April, 11 2012 which will debate the revocation of his medical licence.[18] FDA had put a partial clinical hold on his clinical trials for pediatric patients which even was extended to all clinical trials six months later. FDA inspections of both Burzynski Clinic and Burzynski Research Institute followed in early 2013. However, FDA lifted these bans again in June 2013, despite damning inspection results establishing a rather sweeping non-compliance with FDA constraints by Burzynski. Meanwhile, the Texas Medical Board is again taking action against Burzynski. One of the latest additions to the list of trangressions, the TMB added the use of health care providers with little or no education or skill and representing them to patients as being doctors.[19]
Clinical Trials
Burzyński and his assistants tried to prove clinical efficacy of antineoplastons with several clinical studies. The U.S. government register of clinical trials displays 60 entries (as of November 2011) by Burzynski Research Institute.[20] The studies are criticized by oncologists due to "flawed research methods" and rated "scientific nonsense".[21][22] Randomized, controlled surveys could not replicate Burzyński's results. Between 1991 and 1995, more than a million dollars were spent on independent studies at Mayo Clinic and Memorial Sloan Kettering.[23][24] The studies were cancelled prematurely for ethical reasons because of the method's poor efficacy.[25][26]
In December 2007, FDA granted orphan drug status to Burzyński's concoctions for the treatment of gliomas, a group of brain tumors hard to treat.[24] An independent review by American Cancer Society also arrived at negative results and recommended patients not to spend money on antineoplaston treatments since there is no evidence of positive effects in treatment of cancer. A 2004 medical review described this treatment as a "disproven therapy".[27][28]
In a November 2011, Burzynski's Clinic listed a "number of studies since 2006" in a press release claiming to prove efficacy of the treatment.[6] None of the studies was published in a paper with a high impact factor and most have not been peer reviewed at all. Nine studies are claimed to have been printed by the Journal of Neuro-Oncology which has a good impact factor, but in truth these were just presented as preliminary results at conferences covered by the journal. Contrary to the claim in the press release, there have not been any scientific studies supporting antineoplaston treatment since 2006.[29][30][31]
The products are not approved by FDA and may only be used as part of clinical trials.
The movie "Burzynski - Cancer is Serious Business"
In 2010, Eric Merola (a former director of TV commercials) did a movie "Burzynski - Cancer is Serious Business" which dealt with Burzyński's conflicts with authorities. Critics panned the film as one-sided, poorly produced propaganda promoting Burzyński's treatment. Village Voice commented:
... violates every basic rule of ethical filmmaking: Merola interviews only Burzynski's supporters, produces no patient records other than the doctor's own, and offers no credible proof of the drug's success and no data about its side effects, even as he slams chemotherapy and radiation.[32]
Houston Press dishes out derision:
"We're not sure which dictionary Merola has consulted for his understanding of the word "objective," but hey -- we don't necessarily think a puff-piece paean that cherrypicks facts and ignores any criticism of a documentary's subject is a truly horrible thing, as long as viewers understand they're just getting one side of the story.![33]
The cases of cured patients presented in the movie as evidence of the efficacy of the treatment particularly excel with fragmentary facts. A thorough analysis of facts known in those three cases points out they provide no proof for the efficacy of antineoplaston therapy.[34][35]
Versions of this article in other languages
Links
References