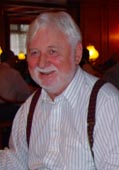 Leslie I. Szabó (not to confused with the musician of the same name) is a Hungarian businessman and inventor of free energy machines. He is CEO with Gamma Manager Ltd. in Budaörs, Hungary.
Szabó claims a power plant utilizing his technology was currently built in China, producing an excess energy of 1,000 MW drawn from space energy.
Specialist literature on the subject is not available, a reception in international journals of energy economies or from professional circles is not detectable (April 2011). Szabó just names a few witnesses who affirm the claims about the invention.

Inventions
Szabó is the inventor of an Energy By Motion-Technology which allegedly is able to operate energy generators with an output of 500 MW. The exact functional principle is not revealed. It is claimed that the "generators" must be brought to a specific number of revolutions with a regular engine. The generator would then produce more electrical energy than is needed to operate it. In a second step, this energy would be used to operate the generator and this is said to yield excess energy for free. It is ultimately a perpetual motion device supposed to last for decades. An "efficiency" of 116% resp. 130% is purported. Until 2007, Szabó also claimed these were just calculated values. His EBM generators are said to actually run only at very high output without external power source by themselves and were "not realized till now". On the other hand, there are claims Szabó already succeeded building a prototype which allegedly produces more energy than needed to power it. Investors and possible buyers were surprised by offers by Szabó to organize seminars on his controversial generators at a fee of 1,000 Euro per participant.
The miracle power plants which do not use fuel are marketed by Swiss company TransAltec AG. The TransAltec websites offers all three generator variants:
3 MW (8 million USD)
10 MW (20 million USD)
150 MW (245 million USD)
Delivery time is given as 16 to 18 months and at ordering, customers are expected to pay 50% of the respective amounts in advance.
Patents of Leslie Szabó
CA2131961, 1996-03-14. ASYMMETRICAL ELECTRO-MECHANICAL DEVICE, inventor: SZABO LESLIE I (HU), Applicant: ELECTRO ERG LTD (HU)
NO943284 1994-09-06, ASYMMETRICAL ELECTRO-MECHANICAL DEVICE, Inventor: SZABO LESLIE I (HU), Applicant: ELECTRO ERG LTD (HU)
AU3743193, 1993-10-05, ASYMMETRICAL ELECTRO-MECHANICAL DEVICE, Inventor: SZABO LESLIE I, Applicant: ELECTRO ERG LTD
WO9213383 1992-08-06, METHOD OF INCREASING THE EFFICIENCY OF AN ELECTRICAL GENERATOR, Inventor: SZABO LESLIE I (HU) Applicant: ELECTRO ERG LTD (HU)
CA2048719 1993-02-09, COMMUTATORLESS DIRECT CURRENT MACHINE (CDC), Inventor: SZABO LESLIE I (HU), Applicant: ELECTRO ERG LTD (BS)
CA2036195 1992-08-13, ROTOR/STATOR COMBINATION, Inventor: SZABO LESLIE I (HU), Applicant: ELECTRO ERG LTD (BS)
CA2033013 1992-06-22, METHOD OF INCREASING THE EFFICIENCY OF AN ELECTRICAL GENERATOR, Inventor: SZABO LESLIE I (HU) Applicant: ELECTRO ERG LTD (HU)
PL278317 1989-11-13, COMPENSATION SYSTEM OF THE ALTERNATING CURRENT ELECTRIC GENERATOR, Inventor: SZABO LESLIE J (HU) Applicant: ELECTRO ERG LTD (BS)
DD294138 1991-09-19, Compensation circuit for electrical generators. Inventor: SZABO LESLIE I (CA), Applicant: ELECTRO ERG LTD (BS)
Weblinks
Versions of this article in other languages