Night Milk Crystals
Jump to navigation
Jump to search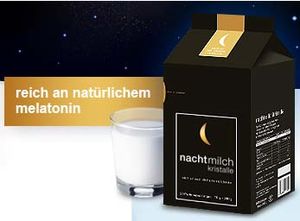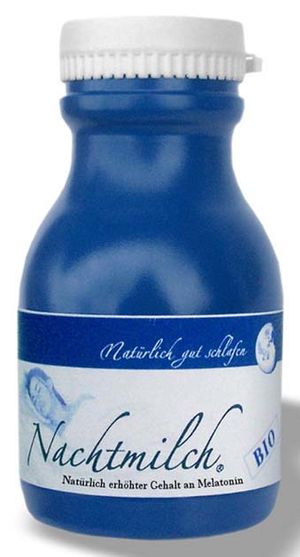 Night Milk Crystals is a dried milk product sold by a Munich based company. This product falls into the classification of food products.[1] It is made by milking cows at nighttime. According to the manufacturers' assertions, night milk crystals contain a high concentration of the hormone melatonin, and therefore are said to have sleep-inducing effects. One portion of these crystals contains 9 grams of milk powder and is sold at a retail price of 1.55 Euros. Manufacturers are Milchkristalle GmbH in Munich[2], owned and operated by Tony Gnann - a German businessman - who holds a patent on the production process.[3]
Preparation
Cows are kept under artificial light conditions during daytime and under a soft red and yellow light during nighttime. They are milked between 2 and 4 a.m. when the melatonin content is supposedly highest. In a process called freeze drying, the drawn milk is then turned into a crystalline powder under vacuum conditions.
Assertions and Studies
In order to back the claims made regarding this product, manufacturers point to a small sized study of the Bavarian "Innovationsförderung Weihenstefan".[4] In this study, the authors indicate a melatonin concentration of 110 pg/g for this product. In comparison, ordinary milk powder contains 15 pg/g. Over a period of ten days, test subjects (humans) ingested 10 grams of the product every day (thus 1.1 ng melatonin per day) which was mixed with an unknown quantity of ordinary milk.
The content of melatonin in night milk crystals is extremely low. In order to obtain the same effect as with an approved medication containing 2 milligrams (mg) of melatonin, the consumer would have to ingest around 2 million portions of the crystal powder at a total cost of approx. 3.1 million Euros. Melatonin, however, is not considered a sleep inducing medication and cannot be obtained as such in a German pharmacy.[5]
In 2004, the veterinary institute of Ludwig-Maximilians-University in Munich examined "night milk" in another study.[6] The Munich researcher detected that milk drawn from cows at night contained 18.7 pg/ml melatonin. During daytime milking, only 1.9 pg/ml melatonin were detected. High variation within the population was noticed. In a feeding experiment with night milk and ordinary milk given to calves, no effects on their circadian rhythm nor on the plasma concentration became evident. Therefore, authors concluded, night milk has no effect as a pacemaker (melatonin acts as a pacemaker and has a so called Zeitgeber function). The melatonin signal forms part of the system which regulates the sleep-wake cycle. It is the central nervous system (more specifically, the SCN, supra chiasmatic nuclei) which controls the daily cycle in most components of the paracrine and endocrine systems rather than the melatonin signal (as postulated earlier).
No food has been found so far to elevate plasma melatonin levels in humans.[7]
Night Milk
Besides processing, marketing and retailing night milk crystals, night milk itself was and is offered as a food product on the market. In Switzerland, Zurich canton health officials prohibited the provider "Harvestmoon" to claim their product "Nachtmilch" (night milk) contained five times more melatonin than ordinary milk. Harvestmoon accepted the interdiction and stopped retail and production. In Finland and Great Britain, night milk seems to be available.
Literature
Nachtmilchkristalle gegen Schlaflosigkeit sind Unsinn, article in "Deutsches Ärzteblatt", June 17 2010
Heiko Dustmann, Horst Weißsieker, Ralf Wetendorf: Wirksamkeit eines Milchprodukts mit nativ erhöhtem Melatoningehalt, article in "Der Lebensmittelbrief" - Innovationsberatung Weihenstephan.[2]
Wöhr, A.C., Birkle J., Unshelm J., Erhard M.H. MELATONIN IN `NIGHT MILK´ AND THE USE AS FUNCTIONAL FOOD, 23rd World Buiatrics Congress, Quebec City, Canada, July 2004
COMED, June 1 2010
Versions of this article in other languages
Weblinks in English
Weblinks in German
References