Braco
From Psiram
Braco (Serbo-Croatian: "Little Brother", real name: Josip Grbavac, born in 1967, Srebrnjak. Engl. Braco the Gazer, nickname Discounter among the Gurus) is an economist from Croatia who acts as a faith healer although he does not describe himself as a healer.
He runs a centre at the Srebrnjak in Zagreb and, during his tours through Europe and the USA - for which he is always clad in white -, offers healings which are said to be effected by Grbavac just taking a look at persons (faith healing by a "giving" look). This is said to cause a flow of energy which then leads to a healing. It is claimed that severe diseases like cancer, epilepsy, and depression have been healed resp. improved.[1]
In order to be met by a look from Braco, his supporters and persons looking to be healed travel to his Zagreb villa or to events. Having paid their entrance fees (or an alleged "food voucher"), the audience then will be divided into groups of some 200 to 300 persons at the most. Visitors of events are expected to sign an indemnity statement releasing the faith healer from any responsibility:
"My encounter with Braco takes place on my own responsibility. I know that it cannot replace an appointment with a medical doctor but merely supports my self-healing abilities."
During the following waiting time, visitors will e.g. watch a DVD or be made to listen to music which will be abruptly turned off when Braco makes a silent three-minute appearance while visitors will have to stand.
Members of "Bruno Gröning Circle of Friends" are among Braco's supporters. They probably view him as something like a successor to Bruno Gröning.[2] So e.g. Dieter Häusler organised an event with Braco in Munich in 2011.[3] Häusler is the son of publisher and business woman Grete Häusler (1922-2007) who was Gröning's common law spouse.
Commercial Aspects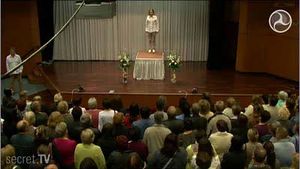 Faith healer Braco, usually media-shy and abundantly decorated with golden rings and other gold jewellery, does not charge money for his "healing looks"; probably since this may bring him into conflict with existing laws. It is the entrance fees which money is made with, as well as fees for internet streamings and sales of books, DVDs, charms, talismans, and other devotional objects. Observers of events in Austria calculated revenues of € 15,000 for a stay of eight hours in the town of Vahrn, for which the audience was divided into groups and were kept waiting for a long time for a short meeting with Braco. For this event, approx. 3,000 persons paid an entrance fee of € 5 each (revenues from sales of media, charms, etc. not included).[4]
A large German-language tabloid (BILD) published an article on a Braco event in the town of Esslingen in 2011, for which an audience of 4,000 persons arrived for a brief meeting with Braco. This equalled revenues of € 20,000. Jürgen Block, a speaker of Braco's, commented the money went to the owner of the premises in the way of rent:
"He does not do this to make money. People report healings, about allergies gone, healed diabetes. Everyone has a positive experience. This is why Braco is doing this."
According to research done by the paper, rent for the premises, however, was only € 1,890.[5]
Substantial revenues are made from sales of Braco jewellery carrying the symbol of the "Golden Sun" (between € 80 and € 150) or pictures of Braco (€ 80). The audience is being told that the "healing sun" will cause an "increase of Braco power" which, however, does not get explained in more detail.
A look from Braco allegedly is enough to "energetise" water. One Drago Plecko - who is introduced as an alleged well-known Croatian expert and scientist on Braco's website - claims to have effected proof of this. Plecko asserts he examined the miracle water with "frequency measurements".
Quotes
Versions of this article in other languages
Weblinks and Videos
---
References